Owned and operated by Brad Douglas who has been in the drywall industry for over 27 years since 1978. Brad established Preferred Drywall in 1989.
Preferred Drywall deals with the highest quality products available on the market today. Our advanced insulation & drywall methods result in some of the most energy efficient R2000 homes constructed in Canada and also to Power Smart standards.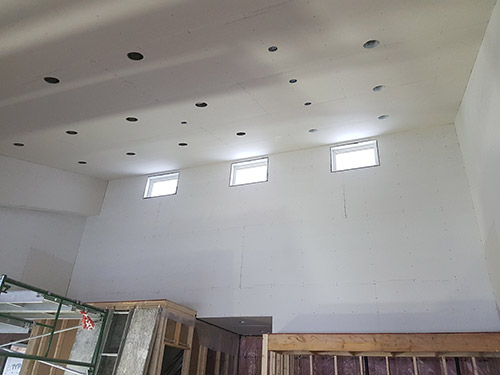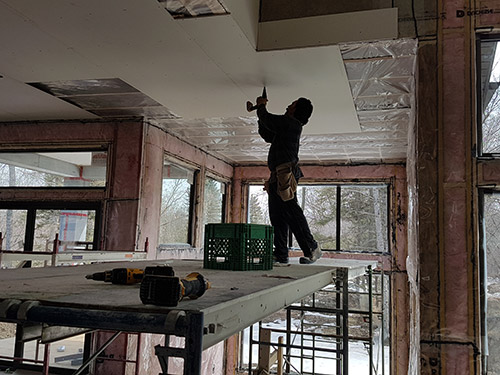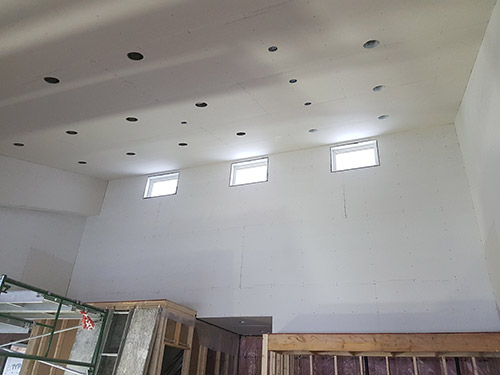 Insulation, Caulking & Vapour Barrier
Energy efficiency is at the top of our list when it comes to new homes. All homes are done to a minimum R2000 air seal with at least R20 Fiberglass Pink friction fit insulation in the walls and R40 Fiberglass Pink blow-in insulation in the Attics. Higher insulation values are also available including the use of newer products such as R22 for walls, which still fits in conventional 2×6 framing, and R50 to R60 in the Attics. We don't scrimp out when it comes to Air-Vapour barrier either. All polyethylene is 6 mil to CAN/CGSB-51.34-M86 standards and even the smallest homes get a least 12 large tubes of acoustical sealant. Some of our larger homes have received as much as 96 tubes. We also pay special attention to sound deadening materials in the interior of the home. R12 sound blanket and resilient channel are easy and economical methods of keeping those teenagers noise and flushing toilets down to a minimum.
Drywall
In high moisture areas such as bathrooms, we apply water resistant aqua board, a type of drywall specially made to resist moisture & mildew. Tile backer board is also used in extreme conditions like shower rooms and saunas. For ceilings we use ceiling board, a sag resistant type drywall made just for ceilings that can handle the stresses of 2′ on center trusses and still remain flat. To insure highest quality all drywall is fastened with screws, no nails here. We commonly use drywall sheets up to 14′ long to minimize joints and also use newer drywall products like 54″ wide for 9′ walls eliminating the old fashioned 1 foot strip that was used with 48″ drywall.
Taping & Finishing
Once all drywall is installed, the taping process begins. All minor defects are pre-filled and then the tape & corner bead are applied. There are many options when it comes to drywall finishing these days. Round, chamfer or square corners are just some of the possibilities available today. We have finished off fireplace/entertainment units to exacting detail with some feature walls that are as time consuming as completing the rest of the home. Time well spent when you awe at the end results. All taping is sanded smooth and surfaces are inspected with lights to ensure a proper finish that's ready for priming.